Media Release
Apr 25, 2023
Siegfried begins construction of a new global R&D Center for Drug Substances in Evionnaz
Siegfried broke ground to build a new global R&D Center for Drug Substances at its site in Evionnaz, Switzerland
Investment of up to CHF 25 million to strengthen Siegfried's Drug Substances network
The R&D Center significantly increases Siegfried's R&D capacity to drive further growth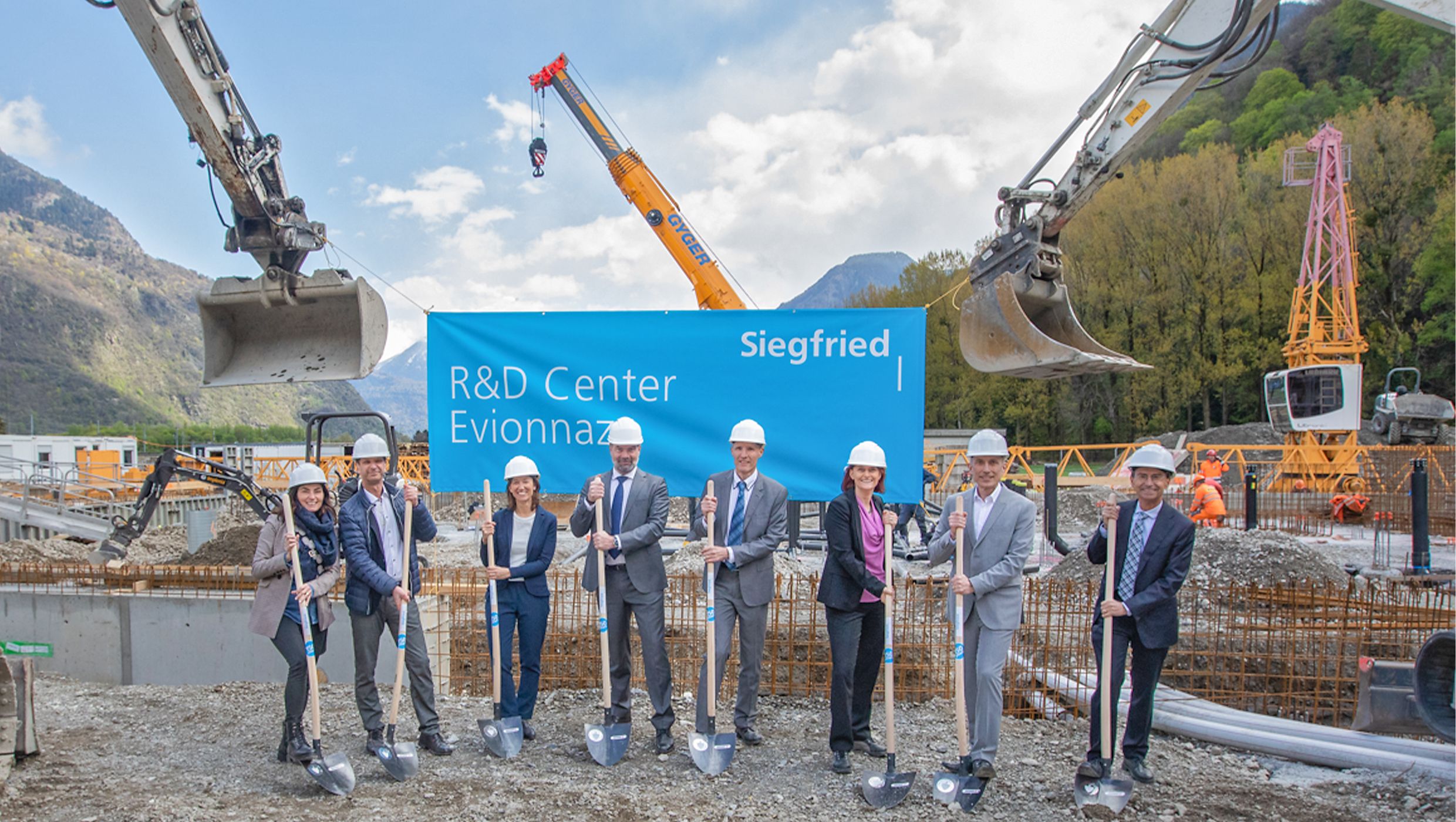 Siegfried, a leading global Contract Development and Manufacturing Organization (CDMO) headquartered in Zofingen, today broke ground for its new global Research and Development (R&D) Center for Drug Substances at its site in Evionnaz, Switzerland. The new R&D Center will begin its operations in 2024 and, together with the R&D Center in Zofingen, will significantly increase Siegfried's R&D capacity to drive future growth.
At this new facility, for which Siegfried will invest up to CHF 25 million, more than 100 highly skilled specialists will work closely with Siegfried's customers to bring their precious innovations to industrial scale. The R&D Center will host advanced chemical and analytical facilities and state-of-the-art laboratories and will offer chemical process R&D and analytical development services for the entire Drug Substances network. With this project, Siegfried is further strengthening its site in Evionnaz, which is a key pillar within its global Drug Substances network.
Wolfgang Wienand, CEO of Siegfried: "The new R&D Center in Evionnaz will strengthen our global network and highlights our commitment to offer the most advanced research and development services to our customers. It is an important milestone in our successful growth strategy and another major step on our path to become the leader in the CDMO space."
About Siegfried
The Siegfried Group is a global life sciences company with sites in Switzerland, Germany, Spain, France, Malta, the USA and China. In 2022, the company achieved sales of 1.229 billion Swiss francs and employed on 31.12.2022 more than 3'600 people at eleven sites on three continents. Siegfried Holding AG is publicly listed on SIX Swiss Exchange (SIX: SFZN).
Siegfried is active in manufacturing pharmaceutical APIs (and their intermediates) as well as drug products (tablets, capsules, sterile vials, ampoules, cartridges and ointments) for the pharmaceutical industry and provides development services.
Download media release
Download press image