Expect to grow
No matter what stage of your career you are at, Siegfried offers exciting challenges and ample opportunities to showcase your talents.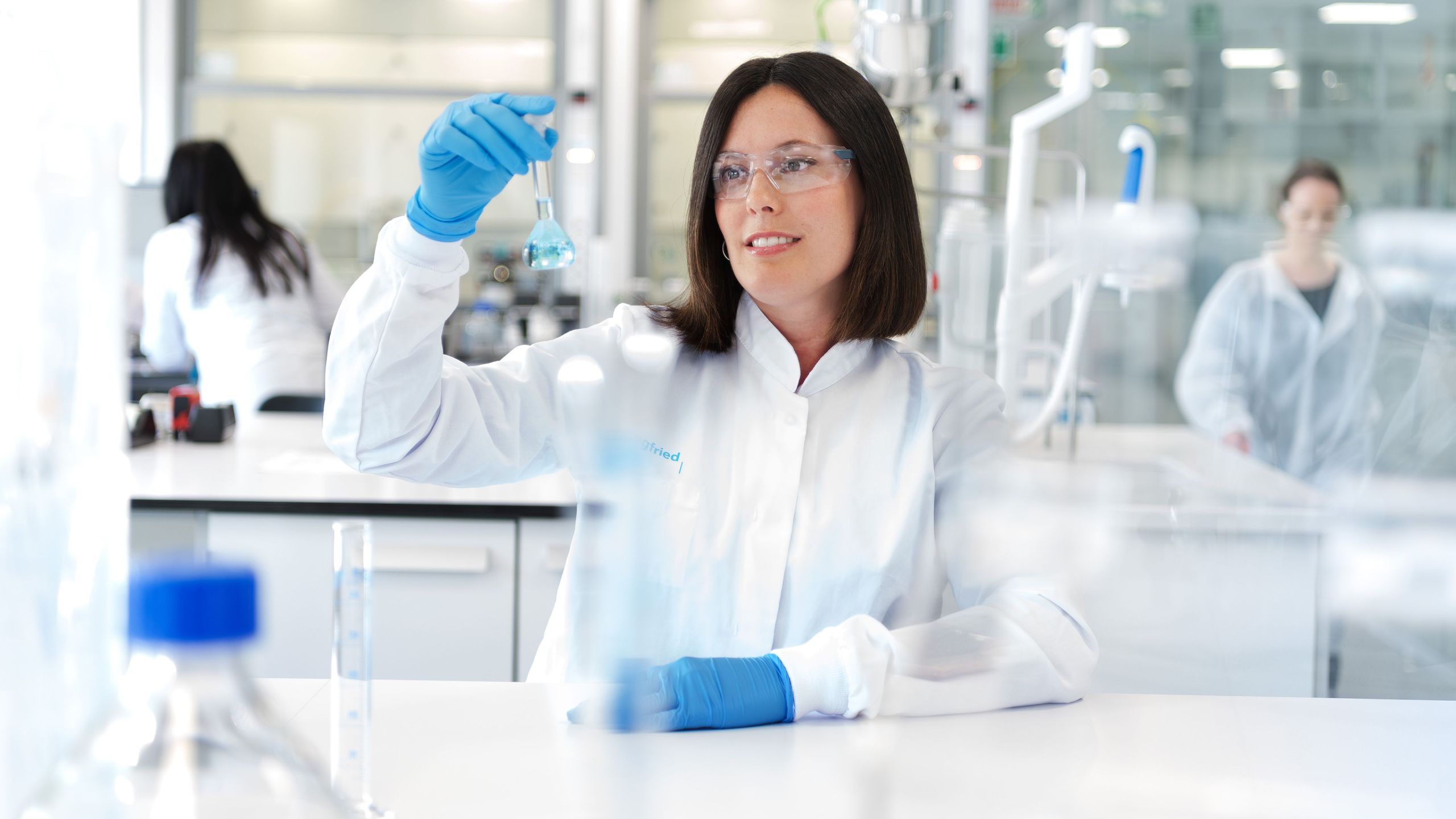 Our purpose drives us
to be the strongest team
Your expectation, our promise
A trusted partner for our pharmaceutical customers
Expect to make an impact: Contribute to a collaborative environment where we take the precious innovations of our customers and scale them up to deliver safe drugs to patients worldwide
Most trusted partner: As a preferred supplier to the pharmaceutical industry, we play a critical role in bringing drugs to market. Our state-of-the-art facilities, stringent quality control processes, and dedicated teams empower pharmaceutical companies to focus on research, development, and innovation, knowing that their products are manufactured safely and efficiently. As a part of our team, you will be making a difference in the lives of people worldwide.
Upholding the highest standards: We are committed to maintaining the highest standards at all times. Our team undergoes extensive training to adhere to rigorous regulations ensuring a safe, ethical, sustainable, and compliant working environment.
A culture that empowers you to thrive
Expect to inspire: Step into a dynamic environment where your ideas have an impact
Values that empower ambition: At Siegfried, our core values of Excellence, Passion, Integrity, Quality, and Sustainability are the drivers of our success. They inspire ambitious thinking, the pursuit of excellence, and allow us to make a positive impact every day. We empower our employees to drive change while upholding the highest ethical standards.
Cultivating a collaborative and inclusive culture: We prioritize creating an inclusive work culture that fosters collaboration and teamwork. Here, your unique perspectives and ideas are valued, and we provide an environment where they can thrive.
Empowering you for community impact: We actively engage with the communities where we operate, supporting you in making a positive impact. Through sponsorships, charity programs, and volunteer opportunities, we empower our employees to give back and be responsible corporate citizens.
A workplace that fosters growth
Expect to evolve: Be part of a global network that invests in your professional development.
Being part of the most competitive network: Joining Siegfried means becoming part of a rapidly expanding global company, where we value and leverage the diverse perspectives and experiences of our employees. Our culture fosters collaboration across departments, sites, and functions, promoting a global mindset.
Expanding your skills: We are dedicated to nurturing the development of our employees by providing access to a wide range of resources and programs. Whether it is through learning, mentoring and educational opportunities, we support both your professional and personal growth.
Realizing your potential: We understand that each employee has unique talents and abilities. That is why we have a talent management process in place to help you realize your full potential. With the support and guidance of our experienced team, we are committed to helping you thrive and succeed in your career.
A comprehensive approach to performance recognition
Expect to be valued: Experience a culture that values performance, fostering a sense of accomplishment and motivation.
Sharing in our company's success: We understand that your contribution goes beyond monetary value and that recognition plays a significant role in fostering a positive work environment. By combining financial incentives with non-monetary rewards, we create a well-rounded program that motivates and inspires you to continue making a significant impact in our collective success.
Planning for your future: We care about your long-term goals and want to support you in achieving them. From appealing retirement schemes to voluntary share plans, we ensure that your evolving needs and priorities can be fully supported. We want you to feel confident and secure in your financial future as you continue to grow and thrive with us.
Expect a structured
hiring process
Applying for roles and initial screening
Begin your journey by sharing your qualifications and enthusiasm with us through uploading your application documents. This allows us to gain a better understanding of you and assess your fit with our team.
Our dedicated team carefully reviews applications to identify candidates whose skills and experiences align with the role, selecting those most likely to thrive in our dynamic global network.
During this conversation, we delve deeper into your background and aspirations, exploring how you can contribute to our mission and culture.
If circumstances permit, we invite you to visit our premises, giving you the opportunity to interact with potential colleagues, experience our workspace, and engage in insightful discussions.
Congratulations! This is where we present you with a comprehensive offer, including details on compensation, benefits and the exciting prospects of joining our #strongestteam.
Once you've accepted our offer, we guide you through a tailored onboarding experience, ensuring a seamless transition into your role and helping you integrate into our global network.
Feedback and continuous improvement
Your insights hold value to us. We highly appreciate your feedback on your experience with us, as it helps us refine our process and ensure that future candidates have an even better journey.