Letter to the Shareholders
Dear Shareholders
2022 was another year of strong profitable growth for the Siegfried Group. In a once more challenging environment, the company demonstrated its resilience and delivered another record result. Sales growth remained strong and profitability raised to a new level. We also continued to invest in the Siegfried network, laying the foundation for further profitable growth. In 2023, the company will celebrate its 150th anniversary and the stage is set for Siegfried to continue its success story in the years to come.
The challenges in 2022 were manifold. In particular, the war in Ukraine had a strong impact on the global economy. Together with the aftermath of the coronavirus pandemic, this led to disruptions in global supply chains and sharply rising raw material and energy costs. This was coupled with uncertainties about the macroeconomic outlook after central banks began raising interest rates to address strongly rising inflation.
Thanks to its resilient business model and forward-thinking management, Siegfried held up well in this challenging environment and achieved another record result. Full-year sales reached an all-time high of 1.229 billion Swiss francs (CHF), an increase of 15.6 percent in local currencies (2021: CHF 1.102 billion) supported by both, Drug Substances and Drug Products. Core EBITDA grew from CHF 207.2 million to now CHF 272.5 million, 31.5 percent higher than 2021. This resulted in a core EBITDA margin of 22.2 percent (2021: 18.8 percent), exceeding the 20 percent mark for the first time on a full-year basis. Core net profit grew by 34.1 percent to CHF 127.8 million (2021: CHF 95.3 million). Net profit according to Swiss GAAP FER was higher than the core net profit and amounted to CHF 156.5 million. The Board of Directors will propose to the Annual General Meeting an increase of the payout to the shareholders to 3.40 Swiss francs per share (2021: CHF 3.20). As in the previous year, the payout will be made by reducing the nominal value of the shares by way of a capital reduction.
At CHF 142.3 million, the Siegfried Group delivered a strong result for cash flow from operating activities after changes in net working capital (2021: CHF 119.7 million). Free cash flow amounted to CHF 27.2 million (2021: CHF 6.5 million).
At year-end, Siegfried had cash and cash equivalents of CHF 91.5 million (2021: CHF 72.6 million). Net debt amounted to CHF 418.5 million, a ratio of 1.54 to core EBITDA, and the equity ratio was 44.1 percent. Siegfried is well capitalized and has sufficient capacity to fund further organic and acquisitive growth.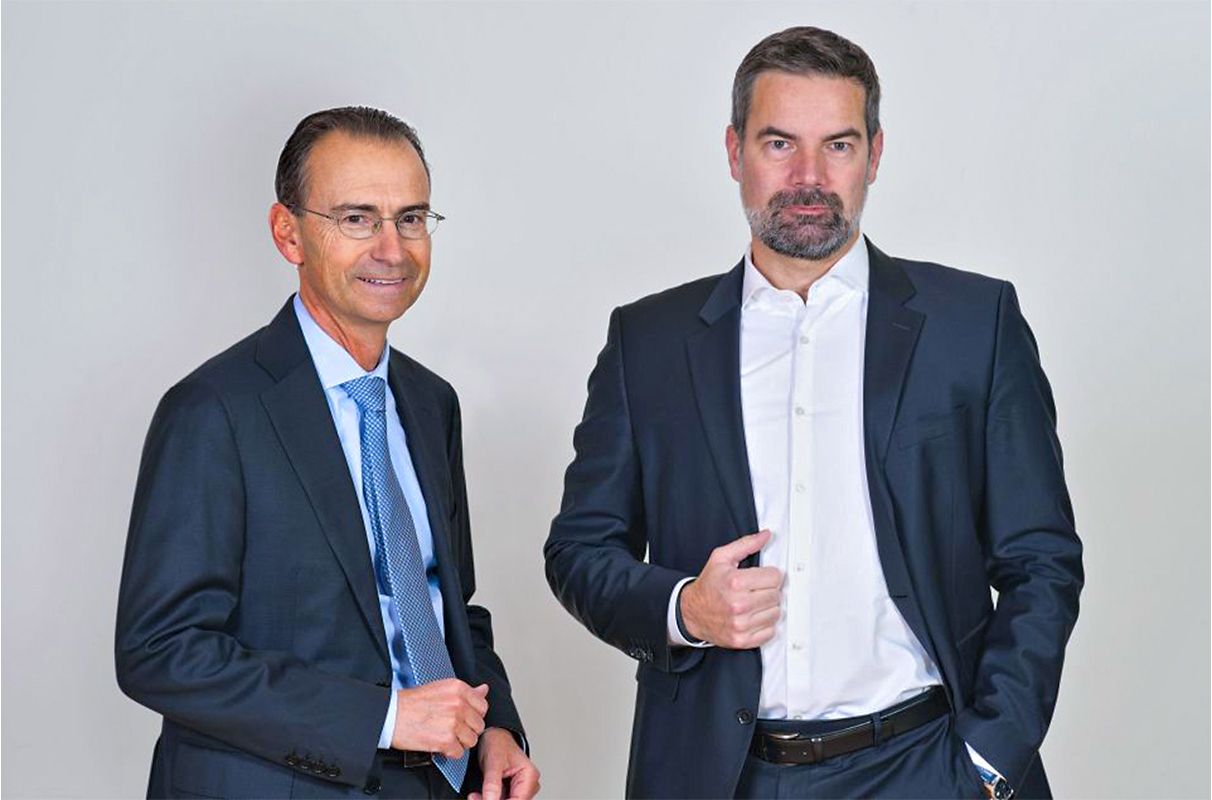 Integration of the two Spanish Drug Product Sites successfully completed
The two pharmaceutical manufacturing sites acquired from Novartis at the beginning of 2021, Barberà del Vallès and El Masnou, have been fully integrated into the Siegfried network in the year under review and contributed to the substantial profitable growth in the reporting period. For both sites, Siegfried was successful in acquiring new projects and products in 2022 and expects further intake of new business in 2023 and 2024.
Vaccine projects opened new market segments
Starting in the second half of 2021, Siegfried has supported the global efforts against the coronavirus pandemic with development and manufacturing services in the field of aseptic fill & finish of Covid-19 vaccines. At our site in Hameln we were filling BioNTech's COVID-19 mRNA vaccine Comirnaty as well as Novavax' protein-based COVID-19 vaccine Novaxovid. In September 2022, Siegfried announced the extension of the collaboration with Novavax until the end of 2023, whereas the collaboration with BioNTech for their vaccine concluded at the end of 2022 in line with the original contractual terms. Through these projects, Siegfried demonstrated its ability to solve technologically demanding tasks even on short notice as well as to quickly ramp up capacities as required. With the investments in competencies and multi-purpose capacities in Hameln, Siegfried has established itself in the field of biologics and has already been able to support a number of customers with development and manufacturing services beyond vaccines.
Expanding our capabilities and capacities to support long-term profitable growth
In 2022, Siegfried continued to invest in its global network to further strengthen its innovation and technological capabilities and capacities, enhance flexibility and become even more relevant to its customers. In Minden, we started the construction of a new world-class large-scale production plant for innovative Drug Substances, a total investment of up to CHF 100 million. At the same time, we further strengthened our footprint in the biologic fill & finish market segment by launching an additional filling line in Hameln. In Barcelona, the installation of our new Center of Excellence for pharmaceutical formulation develop-ment has been completed and will be inaugurated in the first half of 2023. Here, Siegfried will offer its customers a wide range of development services and differentiating pharmaceutical production technologies and in state-of-the-art laboratories and flexible pilot capacities. Also in 2023, we will start the construction of our new Center of Excellence for Drug Sub-stances in Evionnaz.
On track in a challenging environment
Macroeconomic challenges such as Russia's attack on Ukraine, the energy crisis in Europe and ongoing supply chain disruptions have put a burden also on Siegfried. However, with a steady focus on operational and commercial excellence, we were able to respond to them by closely managing our supply chains, applying strict cost discipline including broad energy saving measures and to find solutions together with our customers. As a result, we have been able to protect the interests of our customers as well as of our company and of our other stakeholders. In addition to the benefit from these defensive measures, the posi-tive development of our overall business including vaccines plus the active management of our entire product portfolio contributed to the increase in profitability to well above 20 percent core EBITDA margin.
Strong commitment to sustainability
Sustainability represents one of our five corporate values and is at the core of our business. With our expertise in process optimization, we help our customers to develop greener pro-duction processes for their products and to achieve ambitious sustainability targets. We introduce second-generation processes, apply green chemistry, and continuously search for opportunities to apply new sustainable technologies. With these efforts, we re-duce energy consumption, produce less waste, and, at the same time, often save costs and increase the safety of our products. Our efforts and initiatives have been recognized by ex-ternal parties and independent institutions: In 2022, we were again rated positively by ISS ESG, MSCI ESG and Sustainalytics, and were for the second time included in the Dow Jones Sustainability Index Europe. All our sites also scored well in the EcoVadis Rating.
Change in the Board of Directors
In October 2022, Siegfried announced that, after 10 years of service, board member Colin Bond has decided not to stand for re-election at the 2023 Annual General Meeting. We thank him for his valuable contribution to the positive development of the company in re-cent years and wish him all the best for his future endeavors. The Board of Directors has nominated Elodie Cingari as a new member for election. Elodie Cingari has been holding the position as Chief Financial Officer of the Landis+- Gyr Group since 2020 and will bring extensive professional experience and a profound knowledge to the team.
Continuing to deliver long-term profitable growth
Siegfried's business model is well proven, and we have consistently and effectively implemented our strategy over the last years. Based on this, we expect to deliver continuous profitable growth in the years to come through the continued introduction of attractive new business from existing and new customers, the active management of our portfolio of projects and products and by execution of organic investments in our network as well as value-adding M&A. Through these activities, we will continue to expand our capabilities and capacities and play an active role in the further consolidation of the CDMO industry.
Outlook for 2023
Siegfried expects a sales growth in the low to mid single- digit percentage range at con-stant exchange rates for the current year. In addition, Siegfried expects the core EBITDA margin to be at 20 percent or above, subject to unforeseen geopolitical and macroeco-nomic events or trends. In the medium- term, Siegfried expects a further increase in sales and profitability. Over the cycle, the company plans for average annual capital expenditures in low teens percentages of sales.
Celebrating 150 years "on the move"
In 2023, Siegfried celebrates its 150th anniversary. Going back on time to the year 1873, the two pharmacists Samuel Benoni Siegfried and Johann Wilhelm Dürselen founded "Siegfried & Dürselen, Fabrik Chemisch-Pharmazeutischer Präparate sowie Handel mit Drogen". In the 150 years of its existence, Siegfried had to reinvent and fundamentally transform itself several times. What has remained are the entrepreneurial mindset of our people and the fundamentals of our business: chemistry and pharmaceutics – and the passion to develop and manufacture safe drugs fort patients. We are pleased to celebrate the anniversary together with customers, partners, shareholders and employees around the world at various occasions.
In the name of the Board of Directors and the Executive Committee, we would like to thank our more than 3'600 employees at our eleven sites worldwide for their passion and commitment to our ambitious targets for the future. They have once again demonstrated their ability to perform and withstand in a challenging environment on our way to build the strongest team in the industry.
We would also like to thank you, dear shareholders, for your loyalty towards our company and your support and we look forward to seizing the many opportunities available to us.
Dr. Andreas Casutt
Chairman
Dr. Wolfgang Wienand
Chief Executive Officer